Free Online Event Calendar
BallStream Event Calendars are provided as a free service for sporting associations to present the events of all their affiliated clubs in the one place to help event managers and players to better organise schedules and enhance attendances by avoiding clashes.
To apply for a calendar account, click here to
Register a Calendar
.
Unlike other event calendars that require CMS plugins to use the Google Calendar with account access managed by Google, BallStream Event Calendars can be used on any web page, even from a Facebook page.
Each sporting association can have an
Organisation Manager
account with their own Calendar Group to add Event Mangers for each club to add their own events. As the admin for a Calendar Group, an Organisation Manager can require (optional) that all new events/changes be reviewed and approved before appearing publicly.
Calendar Groups have been designed so that state and national organisations can collectively display the events of all their affiliated organisations and clubs on the same page. For example, selecting "Australia - Snooker& Billiards" will display all snooker and billiards events for all clubs affiliated to eight state associations.
Events are shown on a monthly calendar display with each club colour-coded for easy identification.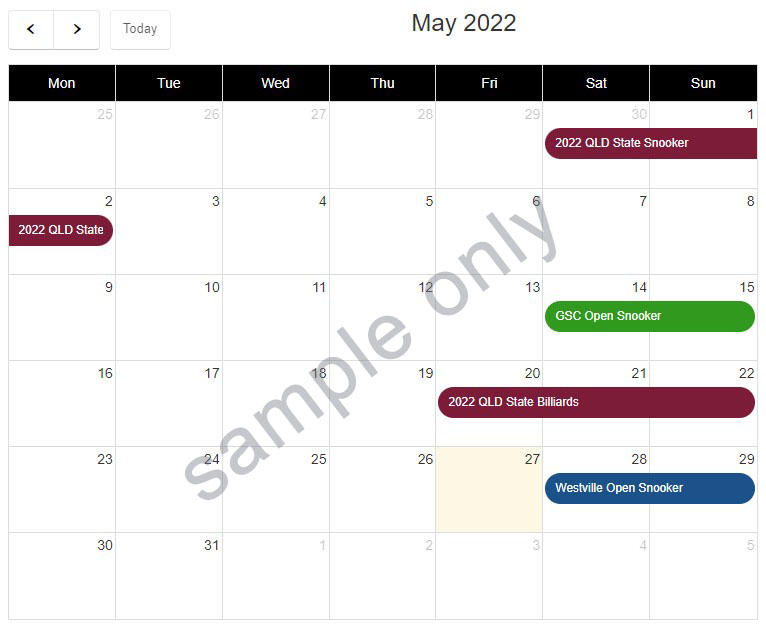 MouseOver of each event will show a preview of that event's information, and clicking the event title will open a new page for further information including location, start times and brochures for entry forms, conditions of play, etc.
The options available for displaying BallStream event calendars:
Directly link to https://calendar.ballstream.com/calendar/?calendar=**
Use the link above in an iFrame that is displayed on your own web page.
Click for more information on
How to use the BallStream Event Calendar
.
To apply for a calendar account, click here to
Register a Calendar
.
If you like this FREE service you are most welcome to
donate
toward its overhead.